Experience the fun of a
Victorian Ball!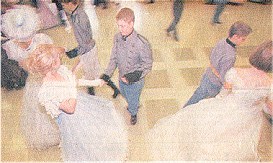 We provide uniforms, a dance instructor and musicians
playing period instruments to create the social event
of the season. We also provide tips on etiquette. Enjoy an
authentic period ball and experience fun the way our ancestors did!

Victorian Ball
Clip#1



Victorian Ball (Jenny Lind Polka)
Clip#2



Victorian Ball (Hat Dance)
Clip#3


Civil War | Revolutionary War | Colonial/Victorian Balls | Soldier Talks
Schedule | Prices | Preparation | Links | Mission | Testimonials | Media | Contact Us | FAQ's
Copyright Since 1991 You Can Live History, Inc., All Rights Reserved.