Experience the excitement of
reenacting a battle from the
War Between the States!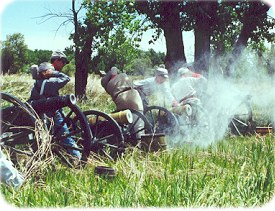 We provide all the uniforms, equipment, muskets and cannons, and training.
We also provide a movie crew, and a 30-minute video starring YOU. Our training
includes drills, music, and storytelling authentic to the time of the Civil War.
Reenacting the Civil War will give you an experience you'll never forget!

The Battle of Gettysburg
(Clip #1)



The Battle of Gettysburg
(Clip #2)



The Battle of Shiloh


(Clip #3)



TESTIMONIAL:
"It's a fun way to get the kids
enthused about a serious subject."
- Tonya Kriss, 5th Grade Teacher,
Eagle Ridge Elementary, Lone Tree, CO
Civil War | Revolutionary War | Colonial/Victorian Balls | Soldier Talks
Schedule | Prices | Preparation | Links | Mission | Testimonials | Media | Contact Us | FAQ's
Copyright Since 1991 You Can Live History, Inc., All Rights Reserved.